In February, Kim Turner who grew up in the Lakeshore Unitarian Church (LUC) and is now a member of the Universalist Unitarian Church of Halifax (UUCH) wrote to Lakeshore to tell us she had discovered a box of wooden tokens in going through her deceased parents' belongings.
She explained that her mother Bunny Turner was an active member of Lakeshore and, in 1969, was involved in the production of 5-cent wooden tokens used in bazaars. Kim wished to return these artefacts of Lakeshore's past to us.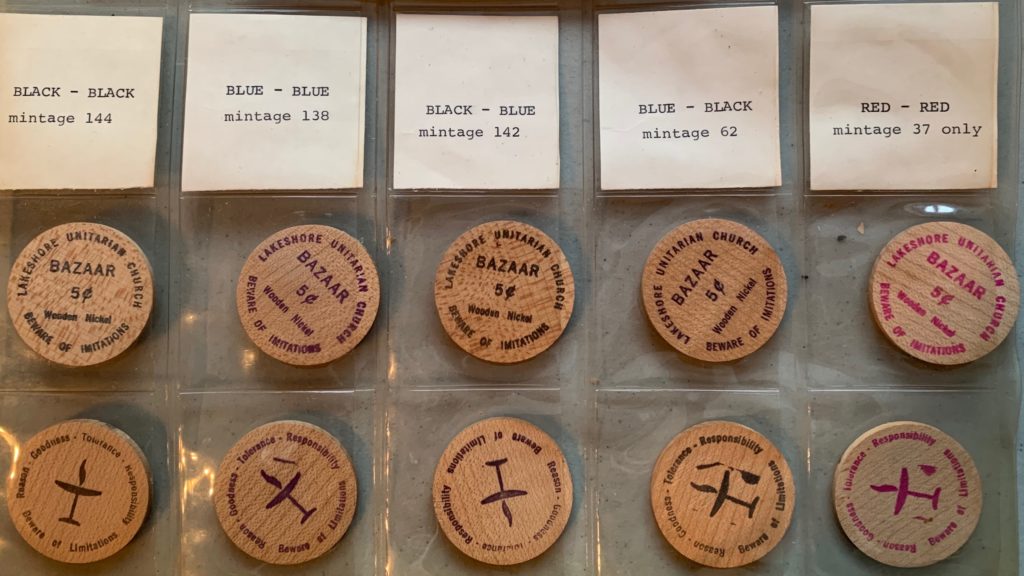 Fortunately, I was travelling down to Halifax in mid-March to visit my goddaughter Stephanie doing a Masters at Dalhousie. I attended a wonderful service at the UUCH and Marilyn Shinyei, in the absence of Kim that day, led me to the Treasure Trove of hundreds of ''Beware of Imitations'' LUC wooden nickels. See the photo below.
Not only did I have the chance to meet a great UU congregation, but also I got to bring back to Lachine a piece of history. My thanks to Kim Turner for the kind service she has rendered us.