Become a Member / Devenez membre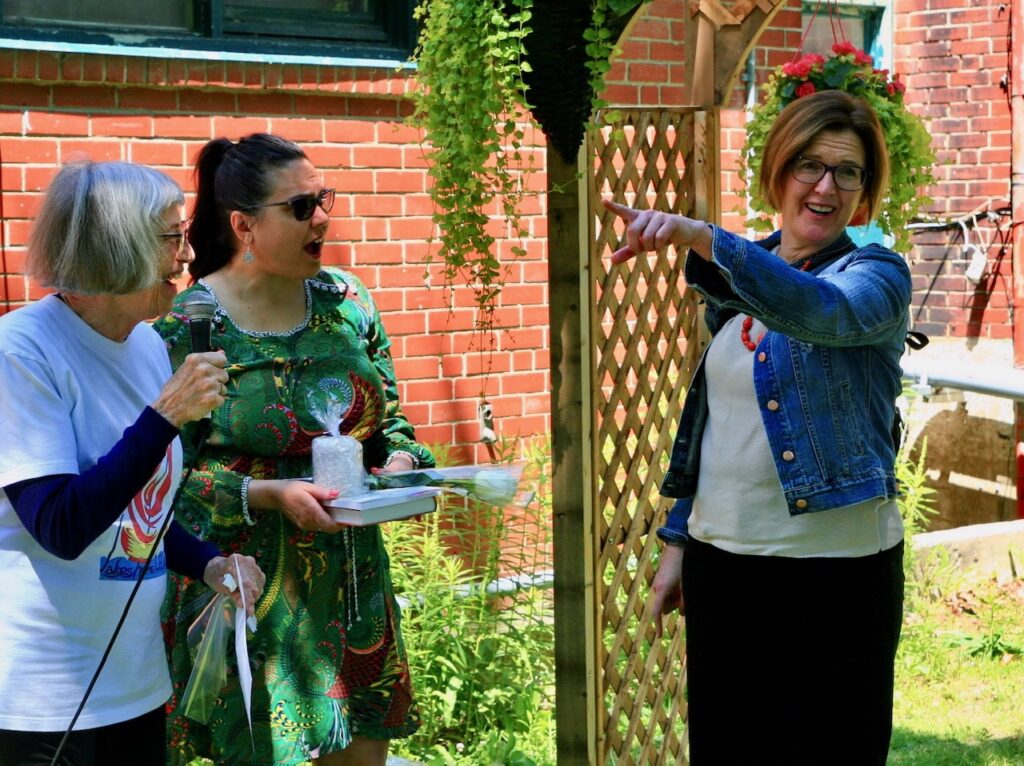 (Le français suivra l'anglais.)
Membership is not a requirement for participation in LUUC. We have many non-members who take an active role in our community. Membership is required to participate in decisions about the on-going day-to-day operations of LUUC.
If you've found a spiritual home with us, we encourage you to become a member of our community of seekers, doers and dreamers.
►If I Want to Become a Member, What's Involved?
Membership in the congregation allows you to have a voice in the governance of our congregation, serve as chair of a committee, and represent the congregation at Unitarian Universalist events and conferences.
When you feel that you are ready to deepen your relationship with our congregation, it is relatively easy. You will be asked to sign the membership form, make a financial pledge (of any size) and then you'll be asked if you would like to take part in the lovely New Member Recognition Ceremony during a Sunday service.
In joining LUUC, you will be part of a spiritual community that is grounded in the long history of Unitarian Universalism.
►Here are the full implications of becoming a member:
Membership Rights:
Voting privileges at all meetings of members.
Eligible to serve on any committee, including the nominating committee, and to be elected to the Board of Directors.
Eligible to receive services of LUUC, including Acts of Civil Status and access to Mutual Aid Fund.
Automatic membership in the Canadian Unitarian Council and Unitarian Universalist Association.
Responsibilities of Membership:
To participate in the activities and services of the congregation.
To assume a responsible share of the financial support required through an annual contribution.
To support one another's spiritual growth and to help create a warm and welcoming environment.
To demonstrate respect for the worth of every person and openness to diversity.
To learn more, please call us at 514 637 6974 or send us an email at lakeshoreluuc@gmail.com
---
Français:
Il n'est pas nécessaire d'être membre pour participer à LUUC. De nombreux non-membres jouent un rôle actif dans notre communauté. L'adhésion est nécessaire pour participer aux décisions concernant le fonctionnement quotidien du LUUC.
Si vous avez trouvé chez nous un lieu de vie spirituel, nous vous encourageons à devenir membre de notre communauté de chercheurs, d'acteurs et de rêveurs.
►Que dois-je faire si je veux devenir membre ?

L'adhésion à la congrégation vous permet de participer à la gouvernance de notre congrégation, de présider un comité et de représenter la congrégation lors de manifestations et de conférences unitariennes universelles.
Lorsque vous vous sentez prêt à approfondir votre relation avec notre congrégation, c'est relativement facile. On vous demandera de signer le formulaire d'adhésion, de faire un don (quel qu'en soit le montant), puis on vous demandera si vous souhaitez participer à la belle cérémonie de reconnaissance des nouveaux membres qui a lieu lors d'un service du dimanche.
En adhérant à LUUC, vous ferez partie d'une communauté spirituelle ancrée dans la longue histoire de l'universalisme unitarienne.
►Voici toutes les implications de l'adhésion :

Droits des membres:
Droit de vote à toutes les réunions des membres.
Possibilité de siéger à n'importe quel comité, y compris le comité de nomination, et d'être élu au conseil d'administration.
Admissibilité aux services du LUUC, y compris les actes d'état civil et l'accès au Fonds d'entraide.
Adhésion automatique au Conseil unitarien du Canada et à l'Association unitarienne universaliste.
Responsabilités des membres:
Participer aux activités et aux services de la congrégation.
Assumer une partie du soutien financier requis par le biais d'une contribution annuelle.
Se soutenir mutuellement dans nos croissances spirituelles et contribuer à créer un environnement chaleureux et accueillant.
Faire preuve de respect pour la valeur de chaque personne et d'être ouvert à la diversité.
Pour en savoir plus, veuillez nous appeler au 514 637 6974 ou envoyez-nous un courriel à l'adresse suivante: lakeshoreluuc@gmail.com.