Spirituality without Religious Identity?
In our Lakeshore community, there is a near constant discussion on the role of spirituality and regular ceremonial celebrations. We even debate what to call our "services."
Avoiding all ceremonial aspects could make the event seem too sterile. Alternatively, too much ceremony can weigh heavily and make it seem too "heavy."
Thanks to a devoted Sunday Service Committee, our Lakeshore Congregation Sunday services are filled with great speakers, songs and just the right amount of ceremony. But the best news is that – no matter how relevant or not a particular service may seem to you – the coffee and tea time conversation and fellowship afterwards are always great.
When no belief is understood to be a belief unto itself
People who are grouped as being "secular" are not necessarily defined by lack of spiritual curiosity. Our Lakeshore Unitarian Universalist Congregation (LUUC) embraces people of all different beliefs. We view beliefs – including not believing – as being deeply personal and are to be explored rather than judged. Simply wanting to be part of a thinking, interesting, caring community is what draws people in Montreal to our Lakeshore UU Congregation.
The swing to secularism in Montreal contrasts sharply with the devout religious orthodoxy of the previous generation. As religious orthodoxy has declined across the province, the role of community-based groups – such as the LUUC are becoming more prominent. Our UU Congregation provides a way for Montreal's West Island youth, families, retirees and everyone in between to connect with each other no matter who or what. The where is LUUC and the when is (most) every Sunday at 10:30.
The essence of the Lakeshore community congregation is being unattached to any religion but connected to our community through spirituality explorations, discussions and charitable initiatives.
– Timothy Byrnes, 2017-11-16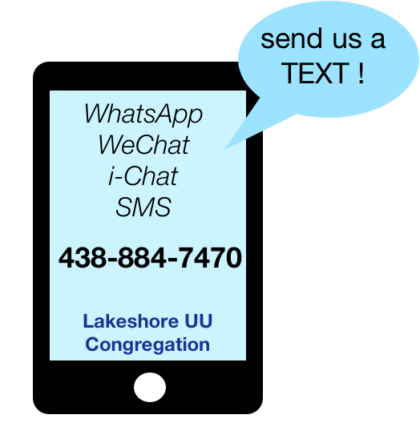 For more information, feel free to contact our incredible team directly: lakeshoreluuc@gmail.com
or
Send us a (WeChat, WhatsApp, i-Chat, SMS) TEXT Message: 438-884-7470