Near the end of February 2018, I went on a two-week visit to my sister Carole who lives in New Smyrna Beach in Florida.   It is nice to visit family and also enjoy some respite from the tough winter we had this year.  I want as well to feel at home away from home so….
I did take the time to drop into the local UU chapter, the Community Unitarian Universalist Church. Just last fall, they, with the help from the national organization, the UUA, had a acquired a small building of their own (a big step up from meeting in a funeral parlour as they did before).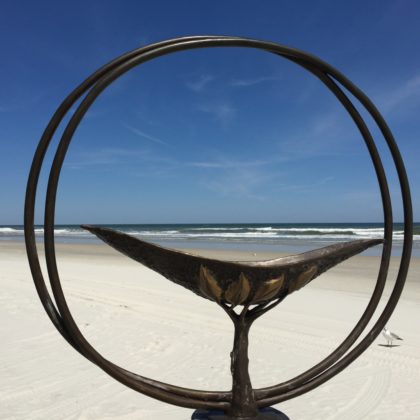 Other than building ownership, I found there many similarities with our own Lakeshore Congregation as it is a small church with no settled minister, but frequently inviting guest speakers as we do. The welcome was warm and heartfelt as my presence as a visitor was recognized as a joy.
And for me, it was a joy to find myself in a beloved community that share the same values of openness, inclusion and social justice that we Canadian Unitarian Universalists promote.  So I found myself feeling very much at home away from home…  even though I was over 2 000 km away from my actual house and in a country whose public discourse at times slips into some very strange territory, at least, in my eyes.
The kindness of greeter Ginny and the other members of that church remains with me. And that community would welcome with open arms any of us from Lakeshore who might be down in their neck of the woods (between Daytona Beach and Cape Canaveral).
Their Facebook page is currently more up-to-date than their web page.  As in a small congregation like our own, it isn't always easy getting everything done that one would like to do!