Ride for Refuge, 2019 edition
Last autumn, Lakeshore members, namely Susan, Sheila, Toni and Christopher, walked to raise over $ 1600 in funds for Action Réfugiés Montréal.   This organization holds just this one fundraiser, Ride for Refuge, each year to help support its work with refugee sponsors and refugees.  It was a vital resource in helping the Summerlea Refugee Support Coalition (of which Lakeshore is a member) sponsor a Syrian family to come to Montréal.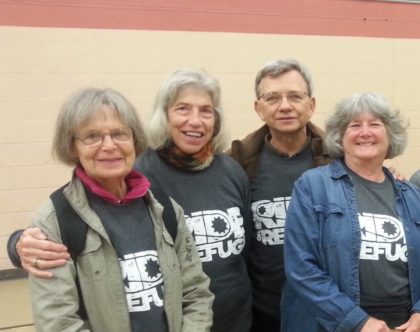 On Saturday 5 October 2019, some of us are walking again for Action Réfugiés Montréal.  See Christopher (or phone / text 514 634 5916) for more information on how to join us in the Walk or how to support the walkers in their fundraising.  
PLEASE HELP SUSAN REACH HER FUND-RAISING GOAL.
GO HERE : ride.w-ith.me/SusanCz
AND CLICK ON THE "DONATE NOW" BUTTON ON THE RIGHT