Map Unavailable
Date/Time
Date(s) - 18/09/2022 - 04/10/2022
All Day
Categories No Categories
Annual Fundraising Campaign for Action Réfugiés Montréal, 2022 edition
Over the last few years, Lakeshore members have participated each September in the walk or bike fundraiser for Action Réfugiés Montréal (ARM). This organization holds just this one fundraiser each year to help support its work with refugee sponsors and refugees.  It was a vital resource in helping the Summerlea Refugee Support Coalition (of which Lakeshore is a member) sponsor a Syrian family to come to Montréal.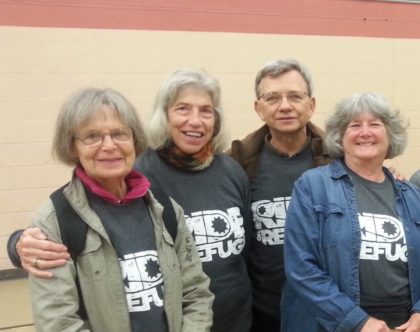 I realize that this year several of us are now contributing monthly to supporting the three Afghan siblings and this may limit how much we have to give in additional charitable giving.   
Nonetheless, I have set up again a Team page plus my own personal page, as Team captain. I have a number of non-Lakeshore friends who do contribute to my campaign, and I wish to give them the opportunity to support ARM.   
If you are interested in walking or biking yourself, please phone or  text  me at 514 634 5916 or by email (see Lakeshore Directory) and I will show you how to add your own personal fundraising page to the Lakeshore Team.
If you do wish to make a contribution to the Lakeshore Team campaign, here is the link:
https://www.canadahelps.org/en/charities/action-refugies-montreal/p2p/bougeons2022/team/lakeshore-collects-for-action-refugies-montreal/
Click on ''Search for team members…'' to find the personal pages of Lakeshore participants.
Contributions to ARM are tax deductible. I hope to raise 800 $ by biking as far as my health permits by 4 October 2022.
Many thanks for whatever you may be able to give.
Christopher