Map Unavailable
Date/Time
Date(s) - 04/02/2018
10:30 - 13:30
Location
Lakeshore
Categories
This winter musical service will be followed by a pasta bar lunch and square dancing.
Winter, beautiful as it is, certainly brings challenges: ice, cold, wet, umpteen layers of clothing and boots, shoveling, cleaning off the car…
If we have the time, we can cocoon and take advantage of the books we've wanted to read, music we've wanted to listen to and recipes we've wanted to try.
As musicians, Rob Lutes, Karine Deschamps and Kerry-Anne Kutz, all proud members of Lakeshore UU Congregation, use the snowy days to sing, practice, write songs, read and reflect.
Come, share some of the music we love to sing and the poetry that resonates with us.
PASTA BAR LUNCHEON and SQUARE DANCING!
Please join us for a fun family-oriented afternoon of a delicious luncheon and square dancing. The Pasta Bar Luncheon will be run as it has been for the last couple of years, i.e., six to eight Lakeshore members will provide delicious sauces and we'll have salad, a variety of different pastas, baguettes and dessert.
If you have an incredibly delicious, "award-winning" sauce you'd like to make, please let it be known! Those providing a sauce will not pay for their lunch, only the dancing.
We have experienced Square Dance caller, Bert Lajoie, on board!  Bert will remind us of the basics and bring a few experienced dancers to help us out. A few Lakeshore members have admitted to being pretty good square dancers as well! Kids 8 and up are welcome to join the squares if they are able to receive instruction. Younger kids can congregate in a square of their own and we ask that parents take turns keeping an eye on their little ones to ensure they don't get under foot.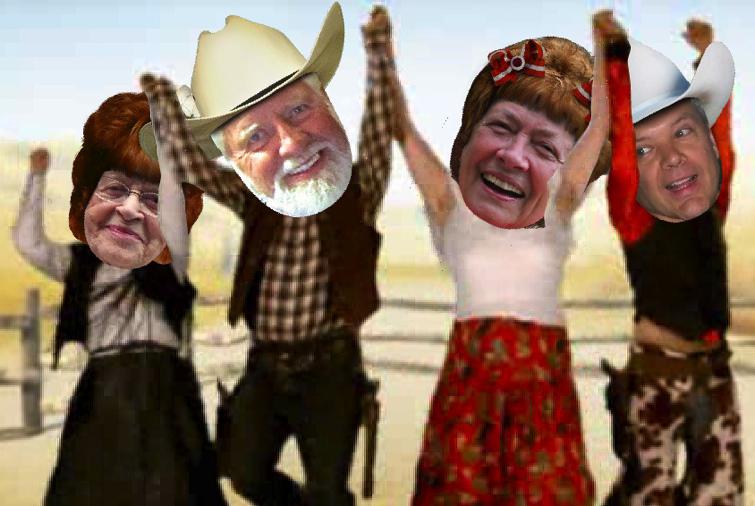 Ticket prices for the combined Pasta Bar Luncheon and Square Dancing Event are:
Adults = $15
Family = $35 (2 adults, 2 kids)
8-18 years old = $7
7 years and under = $2
If you provided a pasta sauce, you will only be required to pay $7 for the event.
Dress: Please wear soft-soled shoes and it's preferable for ladies to wear a skirt/dress that flares, so the caller can better see who's who. Men typically wear button-down, long-sleeved shirts.
Proceeds from the event will go towards Lakeshore UU  Congregation to support our various programs and activities.