A Non-Denominational Christmas Celebration for all Montrealers will take place in Lachine on Christmas Eve 2017. 
Our Lakeshore Unitarian Universalist Congregation (LUUC) will have an incredible Christmas season service full of music and poetry on December 24, 2017, starting at 5:30 pm.  We welcome our Montréal community to join us for great music and fun.  
Our Christmas or Candlelight service is a non-denominational Christmas celebration as we plan to offer our members and the wider Montréal community the spirit of the holiday season that is open to everyone regardless of ideology.   Together we look forward to sharing with you joy and goodwill to our fellow human beings.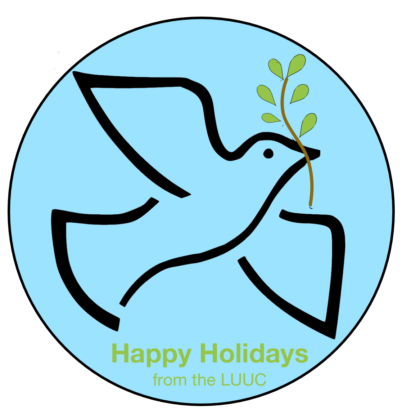 Can a Unitarian Universalist community hold a non-denominational service?
Some both within and outside the Unitarian Universalists (UU) Congregations consider the UU to be a type of religion or denomination.  Others take the opposing view that the UU is simple way to celebrate love and community without any expectations regarding a specific set of beliefs.  Individual UU congregations determine how they wish to present themselves.
Either way, the incredible part about the Lakeshore Unitarian Universalist Congregation – and all UU congregations – is their welcoming of all beliefs. What matters is not what you may or may not believe but that you can feel free to express yourself and are warmly welcomed as the person that you are.    
While many Montrealers are are not affiliated with a specific religion, the Christmas traditions of giving, expressions of love for community, and celebration of families remain strong.  So while some have moved away from traditional religion, its rituals and beliefs, community feeling still holds much meaning and is part of the history of Québec society.
So we offer again this year a non-denominational Christmas celebration!
We welcome our Montréal community to join us for great music, touching moments and fun.  We can also help arrange for transportation to and from the service.
If you and your family are  interested in our non-denominational holiday service, feel free to stop by and join us.  If you have questions – or need transportation – you can call or text me directly.
– Timothy Byrnes