Social Action and Justice
Lakshore Unitarian Universalist Congregation is spiritual community which, through social action, tries to put into practice the second of our faith's Seven Principles, Justice, equity and compassion in human relations.
Support for Suitcases for Africa (SFA)
Food Bank collection: West Island Assistance Fund – Roxboro
Raising funds and advocating for Child Haven. Our most recent Child Haven Dinner (our 20th) was held on 4 November 2017.
Partnering with Maple Grove School in Lachine to supply Christmas Hampers
Knitting Squares: decorative blankets for veterans; sleeping mats for Suitcases for Africa (SFA)
Services on Native Rights
Services on Climate Change
RE Program: DOT (Do One Thing) to conserve and protect our environment
Partnering with other West Island churches to sponsor a Syrian refugee family
CURRENT LAKESHORE SOCIAL ACTION INITIATIVES
Bilal and Family have arrived in Canada!
It was an exciting and emotional Monday afternoon on February 12! The Summerlea Refugee Support Coalition members were overwhelmed with joy to greet Bilal and his family at the airport. Moya Whitley (MP Francis Scarpaleggia's Assistant) joined us as she had been so helpful in checking on the status of their file over the past year, and she came with lots of small Canadian flags and buttons which the family eagerly
accepted.
Although exhausted from their long voyage from Riyadh through Frankfurt to Montreal, the family was excited to meet us too. Broad smiles and warm hugs more than made up for our lack of Arabic, and their limited English and French (although they said "Thank you" to each of us). On February 15, Bilal, Farah and their daughter Dalal (11) and sons Abdulla (10), Baraa (5) and Huzaifa (3) moved into their Ville St Laurent apartment (in the same building as Salman, Bilal's brother, and our co-sponsor), which we had furnished in advance.
We are planning to organize a Welcoming Celebration for Bilal and his family at Summerlea United Church once the snow disappears, and members and friends of the four congregations that formed the Coalition will be invited to come to it.
Stay tuned……
******************
EXCITING NEWS!
Our Syrian Refugee family is arriving tomorrow! We are still trying to add more funding to the account that they will be using to live on, while learning French, searching for work, etc. You can help by purchasing raffle tickets for the chance to win a handmade baby's bed quilt that has been donated to the SRSC from the Modern Quilt Guild. Tickets are $3 or 2 for $5. You can see a picture of the quilt on our LUUC homepage: luuc.org. Buy your tickets from Sheila, Sari or Susan.
*************************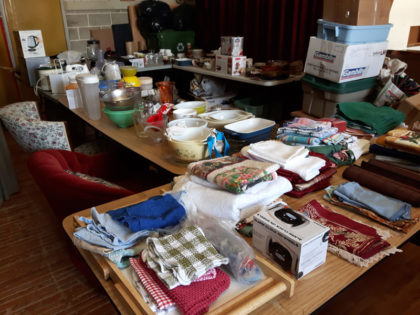 Preparing for our Syrian refugee family: Social Action in Time and Space
We are quickly learning that sponsoring a Syrian refugee family is a long process of rushing to meet tight deadlines, and then trying to wait patiently for the next step. It is a kind of social action working at two speeds and a two distances, local and international.
After several months of diligent work to create an official sponsorship agreement between Summerlea United Church (which has taken on the sponsorship role), our Lakeshore UU Congregation and Merging Waters (Beaurepaire United and Union Church), our final detailed refugee sponsorship proposal was sent by Action Réfugiés Montréal (ARM) to the Quebec government in April 2016. Collectively, we had raised the required $32,000, and we are now matched with the family of Bilal Kernazi, currently living in Saudi Arabia under visitor's visas after fleeing Syria about a year ago.
During the Spring, we met with Bilal's brother, Salman Karnazi, who is serving as our co-sponsor to bring Bilal, his wife Farah, and four young children to Montreal. Salman arrived in Montreal seven years ago, and he has offered to use his own experiences and learnings to take on many of the welcoming, orientation, integration and support roles for his brother and family.
Now, we wait (although it is difficult to be patient). We know that the Canadian officials in Saudi Arabia received the approved sponsorship applications for Bilal and his family on July 5, 2016. That is step 1 of 5 that must be completed before our family is formally approved and receive their visas and airline tickets to come to Montreal. There is a formal review of the documentation to be done first, then an interview appointment to be set by Canadian officials, then the interview, followed by medical and security checks for the family. Those "in the know" tell us this could take anywhere from 4 to 24 months! We will keep you informed…..
Sheila Laursen
Steering Committee Members of the Summerlea Refugee Support Coalition are:
Summerlea United
Nancy Mark, Sinclair Harris, John Osborne and Richard Legault
Merging Waters
Susan Hawker, Wendy Buchanan and Libby Monaco
Lakeshore Unitarian Universalist
Sari Kelen, Susan Czarnocki and Sheila Laursen

Supporting the Red Dress Project
Calling for an inquiry into the issue of missing and murdered aboriginal women: